Microsoft Teams
With the Dialpad Meetings and Microsoft Teams integration, team communication and collaboration just got easier. Whether you are in a chat with one individual or in a group channel, you can create a new Dialpad Meetings meeting link and hop on a video call or screen share simply using the @uberconference command within Microsoft Teams.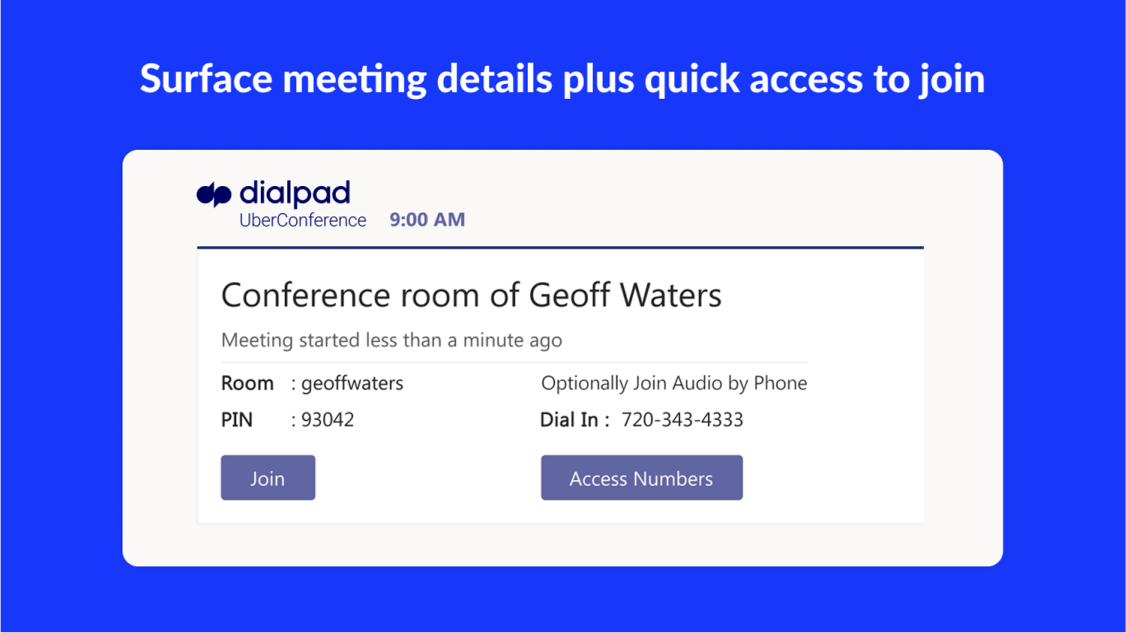 Just an @ Away
When you create a new meeting card using the @uberconference bot, it will display details like the conference URL and participants invited and offer everyone the ability to join the meeting right from Microsoft Teams. Once the meeting participants are inside Dialpad Meetings, they can choose to join via voice or video, and they will also have the ability to share their screens if needed.
Catch every word
When your meeting ends, Dialpad Meetings will automatically update the meeting card with a mini call summary, a link to the transcript and meeting notes (powered by Dialpad Meetings Voice Intelligence™️), as well as a recording of the call. To access the call summary, simply navigate back to your channel or chat to the meeting card that you created to start the conference.
Ai powered transcriptions (and other Voice Intelligence™️ features) require a paid Dialpad Meetings account. For more details on plans and pricing, visit: https://meetings.dialpad.com/pricing.