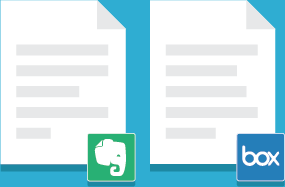 UberConference makes it simple for you or anyone in your conference call to share Evernote notes with everyone else on the call. For free.

When you share notes during a call, we add thumbnails of the notes to UberConference that all participants can can click to view the files. Each participant's view is independent, so different people can view different files at the same time. At the end of the call, links to the notes and files are included in the call summaries for easy reference. See how it works in this video:
Evernote is an awesome way for people to remember everything. You can save anything from quick thoughts to detailed, richly formatted notes in Evernote, and there are many ways to use Evernote in business. With the new release of Evernote Business, it's even easier to collaborate on shared business notes, and we are excited to be one of the first companies to develop an integration with this new functionality. We have also added in another smart, Related Notes function that Evernote offers, which will automatically find notes that you might want for the call based on the conference name and participants in the call.
If you are having your Marketing Meeting conference call, the Related Notes feature could suggest notes about the marketing agenda, plans, budget, and more. After the call, call summary notes are automatically saved to your Evernote account, so you can access them within the context of your other notes.
If you haven't signed up for a Evernote account already, you should check them out now.