Sharing your screen shouldn't be difficult. When it's important to make sure your entire team is on the same page—literally—during a conference call, sharing your screen can help keep your collaborators aligned and engaged. Dialpad UberConference's free screen sharing capabilities make it quick and easy to ensure everyone on your conference call is seeing what you're seeing. Best of all, there are no apps to download, and nothing to install—everything you need is built right in, which means less time spent on setup and more time for connecting. Simply start your free conference call with Dialpad UberConference, then click "share my screen" to let participants instantly view documents, websites, media, and more live on the call.
Trying to connect on the go? Screen sharing is just as simple on your mobile device, using our app—so your participants don't need to stay glued to their computers to join in. Collaboration becomes seamless when you and your colleagues can all view your projects together as a team, no matter where they're located—even if that means including international numbers on your call. And with Dialpad UberConference's free plan, screen sharing is always free for up to 10 participants, regardless of how many calls you make per month. It's just one of the ways we're making conference calls better for businesses everywhere.
Here's why Dialpad UberConference is the best free screen sharing platform out there:
Enjoy unlimited calls with screen sharing for free, for up to 10 participants.
Share your screen remotely with your team, no matter their location—domestic calls are free, and international screen sharing to over 50 countries is enabled with our Business plan.
Upgrade to the Business plan and grow your business with features like allowance of up to 100 participants and more.
View shared screens on-the-go with our user-friendly mobile app.
Find out why companies like Uber, Stripe, and HUGE rely on Dialpad UberConference for stress-free screen sharing that makes their businesses run better. Give it a try today with our free plan.
Free
Audio & Video Web Conferencing
Simple and easy to use, Dialpad UberConference provides all the features you need for efficient and effective online meetings. And the best part? It's free.
Dialpad UberConference Apps
Get our Dialpad UberConference App for iPhone and Android. Visit the Chrome web store for our Chrome Extension which makes it super easy to start and schedule calls right from your browser.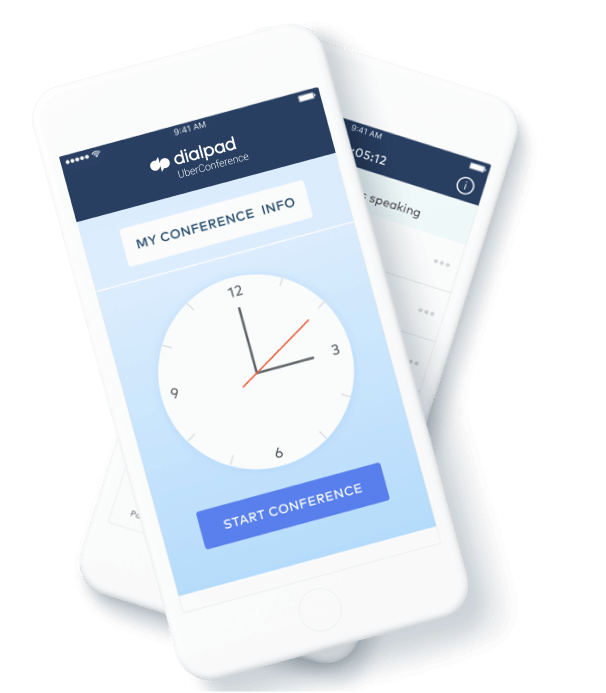 See who's having better meetings with Dialpad UberConference